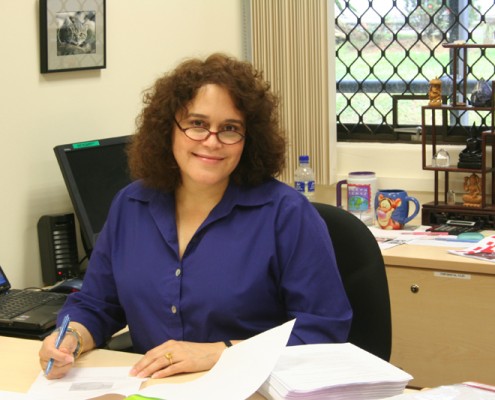 Prof. Milagros (Millie) Rivera is the Head of the Department of Communication Science at the University of Free State in Bloemfontein, South Africa since May 1, 2015. She is also the founder of Kerplunk Personal Mastery, a global training consultancy in the area of personal mastery, leadership, emotional intelligence, conscious communication and emotional wellness. Since 2012 she consults as a coach and trainer for entrepreneurs and individuals.
From 1993 to 1999 she was an assistant professor in the College of Journalism and Communications at the University of Florida, U.S.A. She was tenured and promoted to associate professor in 1999. In 2000 she became a tenured associate professor in the Department of Telecommunications at Indiana University in Bloomington, U.S.A.; and in 2002 Dr. Rivera accepted a visiting fellowship with the Department of Communications and New Media (CNM) at the National University of Singapore (NUS).
She became the Program's head in 2004 and led the department until June 30, 2012. She left NUS in December 2012 to found Kerplunk Personal Mastery. After becoming CNM's head, Dr. Rivera obtained a SGD$1.6 million grant to add a stream in communication management (public relations) and another in interactive media (game/interactive/visual design and human-computer interaction) and led the revision of the department's curriculum, which was phased-in over three years. She also hired a diverse and multidisciplinary team of lecturers from more than 15 countries in areas such as computing, human computer interaction, engineering, game and visual design, digital/traditional art, music, social psychology, cognitive psychology, economics, media studies, communications, public relations, and health communications.
Under her leadership, CNM became one of the largest departments in the Faculty of Arts and Social Sciences at the National University of Singapore CNM had roughly 200 undergraduate majors and about 3 graduate students in August 2004; in 2012 it had almost 800 undergraduate students, which included about 40 double-degree students with the School of Business and about 30 graduate students. In addition, her efforts led to CNM teaching staff receiving more than 35 teaching awards since 2005 at both the faculty and university levels. Since Dr. Rivera became CNM's Head in 2004, the teaching staff grew from 8 to about 30, plus 3 adjunct lecturers, 9 full- time teaching assistants and a host of part time lecturers and lab (mostly writing) tutors. Under her leadership, CNM was ranked as the third best communications program in the world after only six years of its establishment. (QS Global University Rankings by Subject, July 2012).
Dr. Rivera mobilized undergraduate students to organize a student society, promoted the creation of an internship program for undergraduate students and liaised with professional organizations, such as the Institute of Public Relations of Singapore, to promote student membership. She also created an Industry Advisory Council that provided input into CNM's curriculum, facilitated internships for students and actively supported professional and mentorship activities for undergraduate students. She also spent countless hours developing relationships with top leaders of the media industry in Singapore. In addition, she strengthened CNM's relationship with the School of Computing and the Faculty of Engineering. Under Dr. Rivera's leadership CNM opened all its media design and communication management students' final class projects to the public (within NUS as well as invited guests from the government and industry). The objective was to allow students the opportunity to do poster presentations and interact with members of the media industry. This was part of CNM's effort to provide students with opportunities for experiential learning beyond the classroom (e.g. Contrast 24-hour Game Design Competition; Random Blends Multimedia Exhibition, Bluegrapes Advertising Competition, etc.). This resulted in CNM's students submitting their projects to international user experienced design conferences, such as the Computer Human Interaction (CHI) Conference, and winning top international awards for their submissions despite being the only participants without a background in computing.
Dr. Rivera also developed a Research Talks Series for graduate students and faculty members and promoted a culture of research in the department. As a result, professors and graduate students presented papers in top international/refereed conferences at an unprecedented rate. In addition, CNM went from having a fund of research grants of roughly $113,000 SGD from 2003-2006 to over $2.8 million SGD from 2006-2010, more than two-thirds coming from external organizations such as the Media Development Authority, the National Research Foundation, and the International Research Development Centre, among others. In 2012 many of the grant proposals under review brought together researchers from CNM, Computing, Public Health and other academic units in NUS in what became a model of interdisciplinary collaborations at NUS. Finally, in December 2008 Dr. Rivera led an interdisciplinary team of researchers from the Faculty of Arts and Social Sciences to collaborate with a team of researchers from the NUS School of Computing (which was led by NUS Vice Provost Prof. Bernard Tan, the overall principal investigator) to write a SGD $10 million grant proposal for the creation of CoSMIC or Center of Social Media Innovations for Communities. The Media Development Authority of Singapore approved the grant in 2010. Although this grant dealt with projects that were not directly relevant to her work, as head of department Dr. Rivera took the initiative of organizing and leading a team of social scientists from the Faculty of Arts and Social Sciences to develop proposals/concept papers for this project, which involved researchers from the National University of Singapore's School of Computing and Faculty of Arts and Social Sciences; The Nanyang Technological University (Singapore) School Communication and Information, and the Indian Institute of Technology (School of Design) in Mumbai (Bombay), India. The grant's aim was to fund research aimed at developing social media applications and technology for, and conducting social science research to understand the social media needs of, the people of India.
Teaching areas: [As part of Kerplunk Personal Mastery] Emotional intelligence, personal mastery, and conscious communication. [As a media professor] Regulation of information and communication technologies (ICTs), new media and society, mobile media, internet regulation, computer/ICT-related crime and governance of ICTs.
Research areas: Regulatory efficiency, ICT policy, online privacy, e-government, youth and new media/mobile phone use/appropriation in developing countries. Her research interest centers in the Asia Pacific Region and South Africa.
Publications: Dr. Rivera's work has been published in Journal of Creative Communication, Journal of Critical and Contemporary Culture, Communication Education, Science Technology and Society, Communications of the AMC, New Media and Society, Online Journal of Communication and Media Technologies, Journalism and Mass Communication Monographs, Journalism and Mass Communication Quarterly, Journalism History, The Urban Lawyer, Hastings Communications and Entertainment Law Journal, Federal Communications Law Journal, World Internet Law Report, Communications and the Law, Cuadernos de Informacin (a Chilean academic journal), Asian Pacific Law and Policy Journal, Media Asia and Asian Journal of Communication. From 1999 to 2003, she was the author of the broadcast regulation chapter in Communication and the Law, a media law book published by Vision Press, U.S.A.